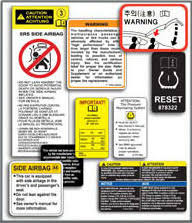 Pearl Paper Products, one of the foremost Automobile labels manufacturers in India. We are an ISO approved one of the leading Automobile labels manufacturers company in India. As one of the most leading Labels manufacturer for automobile industry, we have been doing automobile label printing jobs for several auto companies in India and abroad. The automotive labels that we manufacture are classified as weatherproof, oil resistant, scratch resistant and for Batteries. All kind of automobiles require extreme performance in day to day life. Therefore, long-lasting, high-quality automotive labels with built-in security features is on a rise. We as reputed Labels manufactures for Automobile provide security labels like holograms, security inks and numbering as anti counterfeit solutions.
Our printed labels are manufactured in a way that can empower them to withstand temperature variations and different environmental conditions. The self adhesive labels from our range usually come with very strong adhesive and strong face surface, thus resulting in weather proof, oil resistant and car fluid resistant pressure sensitive labels. The extensive range of our weather proof labels is manufactured using the best label printing technology. The custom automotive labels are manufactured to meet the specific customer requirements.
With our unique label printing technology and printing automobile labels enable automotive suppliers to be more specific and competitive, always make effort to meet customer requirements and streamline their own process of production. Automotive manufacturers that benefit from our modern web printing technology, improves protection of brand and prevents counterfeiting.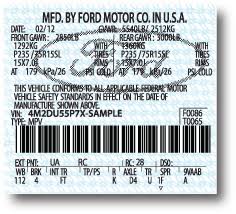 Meet Industry Standards and Customer Requirements
We as Automobile labels manufacturers include many predefined label templates meeting the specific standards in the automotive industry. Our universal labels deliver consistent output on various types of printers. The graphical interface enables you to easily adapt the template to your customer's specific requirements. With labels automobile industry your organization can benefit from automated barcode and labelling system. Using barcode labels companies can increase their production quality and speed, improve inventory management and logistic processes.
With access to one of the largest Automobile labels design companies in India, you get the convenience to choose the correct material and adhesive to suit the requirements of your application.