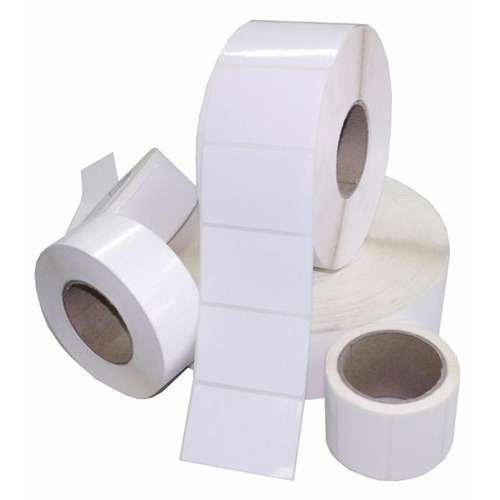 We are one of the trusted names among the Plain labels manufacturers in India and Plain labels manufacturers in Delhi. Our team is engaged in manufacturing and supplying a vast range of Plain Barcode Label to various industries. Thoroughly tested and evaluated under all the parameters, our plain labels are used for product labelling of our corporate and other clients. We carry an extensive range of various sizes and shapes of plain labels (sheet, roll and fanfold format) for your specific needs.
Pearl Paper Products is instrumental in offering variety of plain labels. The offered range of product is manufactured under strict guidance with high industry standards and norms. The following are its features-
Fine printing surface
Smooth texture
Excellent finish
Barcodes are used extensively used today as they are able to carry and retain information that is easily and quickly scanned in a relatively small space. These plain labels are available in large quantities of die sizes and shapes. It can even be custom-made to get your exact size and shape. Moreover, they can also be used as laser labels. A label is the indication or first sign of warning of missing authenticity in the food which is also a kind of processing. As a leading plain labels manufacturers company, we produce label helps create a positive impact on the minds of the customers, thereby giving a personal and relative value. Our product ranges for plain labels are found in sheeted or roll formats. The best part is that these labels are durable enough and are perfect for the wet environments.
Today, the modern industries and businesses relatively depend on the marking of the product which is useful in a way to promote the image of a branded product. This way of marketing is cost effective, energy saving and more efficient. Moreover, we manufacture plain labels in bulk quantities which are actually affordable and can be relied for the promotion of a business. A sticky label has multiple uses and can be applied anywhere.
We manufacture plain labels with the intention that they carry and spread information of the products which can be quickly and easily scanned in a very small space. The utmost benefit is seen at the time of pricing of products which are then used by the cashiers in the stores. To add more, one can see these labels in the cards which can be very easily swiped through a scanner machine. Thus, the plain labels that we provide can be also be used to secure the product.